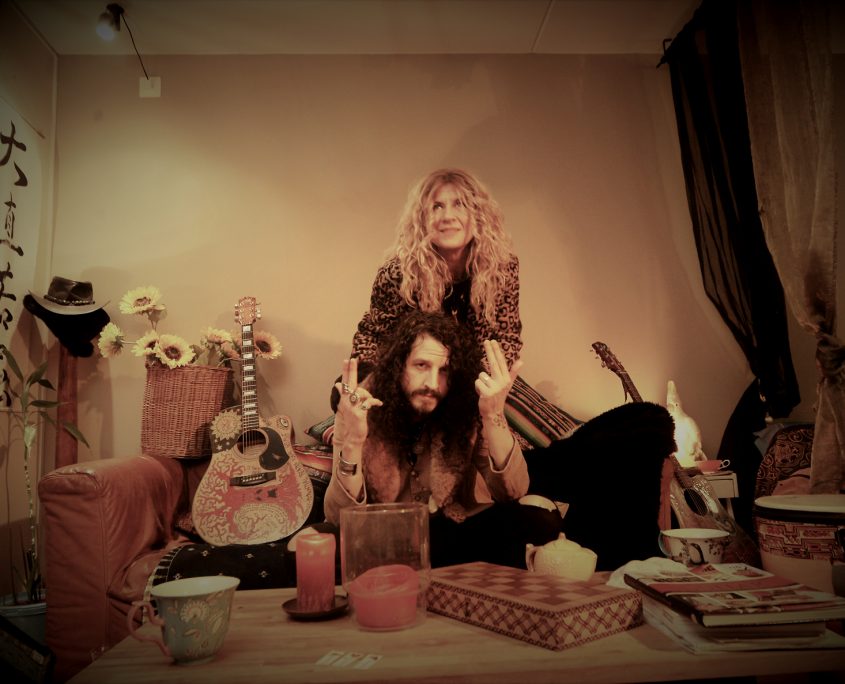 THE BAND STORY 2014- 2017
Perfect Blue Sky is a multinational collaboration between Swedish folk/metal artist, Pontus (Pna) Andersson and Australian rock singer and guitarist, Jane Kitto. Combining their influences as songwriters, their sound is genuinely reminiscent of the uninhibited vibes of the 60s/70s psychedelic classic rock era. Although the duo had already established their song/performance partnership via previous band collaborations from 2006 to 2012, both Andersson and Kitto pooled their influences and love of the classic 60/70's Psychedelic era to form a multi-national super group and host a cadre of well-known guest-musicians to feature on both their albums and live sets.
Andersson and Kitto formed 'Perfect Blue Sky' in 2014, drawing together a wealth of well-known guest musicians who share a love of classic rock. Their premier line up in 2015 consisted of two legends from Janis Joplin's "Big Brother & The Holding Company" rhythm section, Dave Getz (Drums) and Peter Albin (Bass) along with Aussie keyboardist long distant member/player Danny Oakhill. (Turk Tresize, The Australian Queen Tribute). Their new 2017 album 'The Eye of Tilos' features player performances by Jerry Donahue (US Guitarist the Proclaimers, Fairport Convention, Hellacasters) and BBHC drummer Dave Getz. Also guest French newcomer on drums Frank Bessard (Joe Satriani Stanley Clarke) as well as their keyboardist Danny Oakhill (AUS)
Andersson is co-founder of leading Swedish metal band Netherbird, who have released 8 studios albums to date. As well as songwriting and performing, he is a highly ranked sound engineer who has worked on productions featuring Ed Sheeran, Martha Wainwright, I Blame Coco, Icona Pop, Salif Keita, Fu Manchu, Charli XCX, and Sonic Youth.
Australian rock artist Kitto has performed in 34 countries, including Belarus, Tahiti, and at the North Pole! She was first signed to Mushroom Records (Kylie Minogue), and features in Australia's Who's Who of Rock & Roll. Whilst playing in Sydney in 1994, she was discovered by Jeff 'Skunk' Baxter of Steely Dan and The Doobie Brothers, who encouraged her to move to LA. There she supported Sheryl Crow at The Roxy, and performed at the Whisky a Go Go with Teddy Andreadis (Slash's Snakepit) and Chad Smith (Red Hot Chilli Peppers). She has also appeared at the infamous CBGB in New York. In 2006 Kitto toured the UK and Scandinavia as lead vocalist for Janis Joplin's original band, Big Brother and the Holding Company. Now based in Sweden, she has shared the stages with Dionne Warwick and Status Quo, and performed on live TV from the Prince's Palace of Monaco.
Together Andersson and Kitto have supported Pete Doherty and Tony Joe White, and have appeared at numerous festivals, including the Sweden Rock Festival and Les Enfants. Their influences include Led Zeppelin, Wishbone Ash and Pink Floyd, and their sound and partnership has been likened to a current day Lindsey Buckingham and Stevie Nicks!
Their outstanding new single 'Give You My Love' was released on 12th May, by UK label Right Recordings. The single is taken from the new album 'The Eye of Tilos', released on 19th May. The album features Jerry Donahue (guitarist for The Proclaimers and Fairport Convention) and Dave Getz (Big Brother and the Holding Company drummer). Also in the line-up is Frenchman Frank Bessard (Joe Satriani, Stanley Clarke) on drums, Australian keyboardist Danny Oakhill, and British viola player Lewis Parsons. 'The Eye of Tilos' is a warm analogue recording, reminiscent of the late 60s or 70s. All lyrics are reflections, tributes and observations written by Andersson and Kitto. The album title and content was inspired by a magical visit to the Greek island of Tilos.
Perfect Blue Sky have just completed their first UK live radio tour including BBC and several commercial stations in May 2017. They have further radio interviews and live dates planned for later this year, to coincide with the release of their second single.
DISCOGRAPHY
PBS "The Eye Of Tilos' SCR021CD (Scarecrow/Right Recordings)
PBS "Emerald' SCR014 CD 2015 (Scarecrow/Sound Pollution)


 Special guest players (US) Peter Albin (Bass) & Dave Getz (Drums) from Big Brother and the Holding Company performing with PBS at Izzy Young's Folklore Center in Stockholm Aug 2014