Reviews for Perfect Blue Sky – 'The Eye Of Tilos' 
Just Based around the founding duo of Pontus Andersson and Jane Kitto, Perfect Blue Sky produce warm, laid back rock, rooted in the early 70s, with an occasional psychedelic tinge and you can sense the ghosts of Zeppelin, Pink Floyd, Bowie and more drifting through sweet songs like 'Silverstream'. It's a really relaxing, spirit lifting listen that wraps you in the soft, golden light of past times, peaceful times, good times. Writing this review in the wake of a horrible terrorist attack in Manchester, aimed at our children, that soft, golden light is particularly welcome. We need the simple pleasure of music now more than ever and right now there's nowhere I'd rather be than drifting through the Fleetwood Mac styled sounds of 'Wind's Ransom'. 'The Eye Of Tilos' is a real pleasure to listen to and an album made from and for the simple love of music. 8/10
By Chris Kee
Just returned from the music shop with the new enhanced 'Tango In The Night'? Nowt wrong with that, it's a smooth move – good, fun sounds and unchallenging – like a favourite chair and long drink, settle in and breathe deeply. Perfect Blue Sky are essentially a duo, a Swedish/Australian concoction of guitarist Pontus Andersson and vocalist Jane Kitto with some help, and that help is worthwhile because this is amazing. Yes, this is a return of the Mac, but we also have some opulent Country Rock soft stunners like seventies vagabonds Unicorn and Mama's Pride. Such a step up from a rather tentative debut 'Emerald', this sounds like an undiscovered 1972 gem, ringing guitars and even a flute in opener 'Give You My Love', a sixties Pink Floyd feel in 'Silverstream' and something resembling simmering Stevie Nicks via Lynne Jackaman with a Yacht Rock yippee in 'Fiction Man'; all these are phenomenal. Add to this a Folky, floaty 'Wasteland' and the yacht poking in, just the prow, during the bonus 'Head In The Clouds', along with a rolling Mac mode of transport in slight but summery 'Sunoir' and you're near musical heaven. There are no virtuosos here, this sounds like a whole band serving some superb songs. What a perfect way to spend an afternoon. Goodbye, Blue Sky? Hope not…
By Steve Swift
Rhein Main Magazine.Germany
Musikalisch von den Singer & Songwriter, Folk- und Psychedelic Rock der späten 60s, frühen 70s geprägt, schaffen es Jane Kitto und Pna Andersson (nebst Gastmusiker) auf ihren Alben eine schön sonnige, blumige Atmosphäre zum Träumen zu erzeugen, die dazu verführt, ein Paar Blümchen ins Haar zu pflanzen und den Moment zu genießen!
(GT) Perfect Blue Sky musically from the singer & songwriter, folk and psychedelic rock of the late 60 s, early 70 s, Jane Kitto and pna Andersson (with guest musicians) on their albums create a beautiful sunny, Creating flowery atmosphere for dreams that tempt you to plant a few flowers in your hair and enjoy the moment!
Switzerland
PERFECT BLUE SKY – The Eye Of Tilos June 2017
Scarecrow Music Group/Right Recordings
(Google Translated. For the original version please click on above link)
Perfect Blue Sky, perfect name for this band, whose heart is from the Swedish Pontus Andersson (vocals and guitar) and the Australian singer Jane Kitto. Perfect because the dreamy and slightly psychedelic classic rock, which the two together with their fellow musicians, the exactly right soundtrack is for beautiful afternoons and lukewarm summer adventures accompanied by people who like one. Without a shit now, the sound of Perfect Blue Sky is admittedly quite right laid back, even in the really cool rocking moments ("Give You My Love", "Fiction Man"), but somehow, or perhaps precisely because of it, it spreads exactly The seventies spirit, which makes one indulge in nostalgic dreams. Packed in an incredibly warm, analogue sound, the ten songs (plus two bonustracks) take us back to a time when Fleetwod Mac was not a random, interchangeable pop, but an essential musical constant, a steppenwolf for rebellion and an outburst Crosby, Stills, Nash and Young, with their overwhelming, multi-voice epics, and The Who long before Motörhead or Manowar were the loudest band in the world. In the quiet, acoustic "Stay With The Light", the heroes of younger date, Spock's Beard, when they were still under the musical impulse of the chief ideologist Neal Morse, glimmer with the Bonustrack "Portrait Of Love" (played with Folkrock / Fairport Convention icon Jerry Donahue), I inevitably had to think of Led Zeppelin, the second Bonustrack "Head In The Clouds" quite clearly paid homage to the Beatles from "Revolver". "The Eye Of Tilos" has become a successful piece of classic rock, which works far from any transfigured nostalgia and thus the merciless Test of Time bravely will consist, simply beautiful music for beautiful moments.
Mirko B.
Points: 8.2 out of 10
Scarecrow Music Group (SE) Right Recordings UK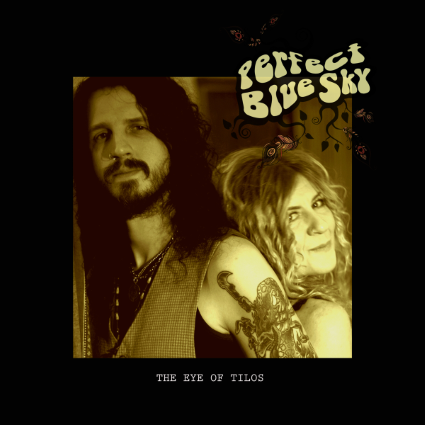 Perfect Blue Sky, is the highly anticipated collaboration between one of the founding members of the Swedish metal act Netherbird Pontus, Pna Andersson and Australian solo rock vocalist, Jane Kitto. Together they formed the band in 2014 based out of Stockholm, Sweden. I have to say going into this album, The Eye of Tilos, I knew little to nothing about them. With that, I had absolutely no expectations when first playing this. On first listen I had no idea what I was in for.  Just vague non-descriptors from a PR statement. With a clear mind I listened on and found that this is one of the most pleasant sounding albums I've listened to in a while. I was hit with tight songwriting and smooth production.  The music was this 70's style soft rock, you know the kind of stuff that we don't usually cover here on Valkyrian Music. This really beautiful soft acoustic soft rock, with light elements of psychedelic indie rock music. The sounds are so fluent and cerebral.  It has this way of getting lodged in your brain. It's not catchy as such, there are no real ear worms here. More just beautiful tones that sink into your memory without you even realising it.  There's some creative riffs and superbly simplistic, but effective, writing ideas. The harmonies really grab your attention in a way that you wouldn't think.  All of the songs are designed so that you pay attention to them as a whole, instead of nitpicking the individual aspects. It's the same joy I feel from listening to stoner metal or outlaw country music.  Just music that switches off my overthinking capacity and switches on my pure enjoyment. I don't want you to think that this production is small scale or under planned.  There's a lot of work that goes into making music that sounds like this.  To achieve this the duo have recruited a pretty nice backing band that really bring all of the elements of this album together. Names like, Frank Bessard (Joe Satriani, Stanley Clarke) and Dave Getz (Big Brother Holding Co.) on Drums. Danny Oakhill on Keyboards (Queen Tribute, Turk Tresize).  Jerry Donahue on Guitar (Fairport Convention, Hellecasters). All of them bring their energy to the album, yet like I've said the production never lets any one member really over shine the others.  There is is this really nice balance to it all. So the listener never feels overwhelmed by any one part of the production. Genuinely, I have loved this album. It's a beautiful sounding record with a lot to offer in its production and in its songwriting. With songs of passion, abstract concepts and social commentary. The Eye of Tilos is such a nice sounding album.  It mixes old school hippie jams with classic rock and adds some modern style production to really keep it in today's market. I am really liking this band.  Hopefully this won't be the last I hear from them. Also, it makes for awesome driving music. 5/5
Musipedia of Metal 8/10 Perfect Blue Sky: The Eye Of Tilos (SMG/Right Recordings)
Review Fireworks Magazine UK Just returned from the music shop with the new enhanced 'Tango In The Night'? Nowt wrong with that, it's a smooth move – good, fun sounds and unchallenging – like a favourite chair and long drink, settle in and breathe deeply. Perfect Blue Sky are essentially a duo, a Swedish/Australian concoction of guitarist Pontus Andersson and vocalist Jane Kitto with some help, and that help is worthwhile because this is amazing. Yes, this is a return of the Mac, but we also have some opulent Country Rock soft stunners like seventies vagabonds Unicorn and Mama's Pride. Such a step up from a rather tentative debut 'Emerald', this sounds like an undiscovered 1972 gem, ringing guitars and even a flute in opener 'Give You My Love', a sixties Pink Floyd feel in 'Silverstream' and something resembling simmering Stevie Nicks via Lynne Jackaman with a Yacht Rock yippee in 'Fiction Man'; all these are phenomenal. Add to this a Folky, floaty 'Wasteland' and the yacht poking in, just the prow, during the bonus 'Head In The Clouds', along with a rolling Mac mode of transport in slight but summery 'Sunoir' and you're near musical heaven. There are no virtuosos here, this sounds like a whole band serving some superb songs. What a perfect way to spend an afternoon. Goodbye, Blue Sky? Hope not…
Sometimes simplicity is best, it leaves the songs to stand alone with nowhere to hide, to breathe, and it leaves the interpretation open. As Steve Marriott used to say if you can move someone with just a voice and guitar you know you have a great song, well its not quite that stripped back , but you get the idea. Perfect Blue Sky remind me of simpler  times and this their second album is my first acquaintance with the band and their music. There's a warmth about this album that you don't get too often these days as its usually hidden beneath the overproduction and unnecessary sheen. These songs breathe, they have something to say and their relative brevity means if one doesn't grab you then they're quite happy to oblige with another tune. In truth though I didn't really find anything to dislike about this collection; sure part of you wonders what the songs would be like fully blown out, orchestrated and polished to perfection but I suspect that both misses the point and the ethos of the band. Tracks like 'Give You My Love' and 'Astronaut' that open even have titles that suggest the hope and wonder of the 60's and early 70's  – times when your lives were you own and people more often than computer screens stared back at our faces. Think Green era Fleetwood Mac, acoustic Zeppelin, add a little of the San Francisco sound of the sixties and a West Coast ease and poise and you have the essence of this album. Throw in a little nod of the head to Pink Floyd on tracks like 'Silverstream' and you have something you really want to listen to. Elsewhere there are plenty of cool musical movements from the strummed simplicity of the groovy 'Get Lost, Get Found' and the proto Lenny Kravitz vibe of 'Fiction Man' or the 70's stylings of the wonderful 'Wind's Ransom'. The remainder of the album ain't bad at all either: 'Scrapbook' is gentle and breezy, 'Sunoir' starts out a Capella and ends up sounding like vintage Heart (and very good it is too), 'Wasteland' adds some 60's psychedelic Californiaisms (yep made that word up); and 'Stay With the Light' adds a little sadness amidst the deep lyrics and acoustic meanderings. Some versions of the album also add two bonus tracks the acoustic ramble that is 'Portrait of Love' (featuring Jerry Donahue) and 60's trip of 'Head in the Clouds' (featuring Dave Getz). Great to listen to and highly recommended if you're looking for something laid back, mellow and engaging. More please. Mark
Seventies throwbacks have rarely sounded so good…
Australian/Swedish psyche folkers Perfect Blue Sky operate on the very fringe of what might be termed Sentinel Daily-worthy, but with The Eye of Tilos they've come up with such a perfect slice of classic rock we couldn't really allow it to go through to the 'keeper without some form of comment and, more importantly, approbation.
Coming on almost like a modern day version of seventies rockers Buckingham Nicks, vocalist Jane Kitto and guitarist/vocalist Pna Andersson (who does the odd turn in Swedish extreme metal outfit Netherbird, rather amazingly) have some sort of otherworldly bond that seems to make them utterly invincible and, musically at least, totally and utterly compatible. Easy listening may have nasty perjorative connotations in our world, but The Eye of Tilos really is an incredibly easy album to listen to, again and again.
The band are most at home weaving folky seventies tapestries, soundscapes that not only recall Fleetwood Mac but also other contemporary names you'll be familiar with from that storied decade. Kitto has an easy weariness to her voice that owes as much at times to Marianne Faithfull as it does obvious comparison Stevie Nicks, but it's the way she uses her voice in tandem with Andersson's that really counts for most on The Eye of Tilos. This is best exampled on the sublime Wasteland, which melds proggy Renaissanceisms and bucolic Canterbury scene wooziness into a framework that allows both vocalists to shine in deliciously understated fashion.
Winds Ransom is slightly more urgent though no less classy, and although it's the most overtly derivative track on the album (OK – it's a dead ringer for Rhiannon in places) the sheer class of execution means the closeness in sound never really becomes an issue. This music is the equal of what's gone before so what's the odd drum riff between musical peers?
Incredibly accomplished, irresistibly attractive, insidiously addictive, The Eye of Tilos is all these things and a whole lot more. It's not metal, it's barely even rock in places, but it's unquestionably one of the most intriguing albums I've heard in quite some while. And that makes it worth a punt, surely?
Joined in the studio by the fantastic Perfect Blue Sky, Jane Kitto and Pna Andersson. I am really loving their single GIVE YOU MY LOVE which I have been playing out on Phoenix FM for a while. Their album, THE EYE OF TILOS is out now. Glad I have my copy! Available on ITUNES, AMAZON.
Must also just say, besides being extremely talented musicians, Jane has the most incredible arms I have seen. Very jealous of those arms Jane, very jealous!
Great to meet you both and hopefully meet again some sunny Greek day. Michelle Ward
Ruim twee jaar na het debuutalbum is hier het nieuwe album al.
Soms kan het snel gaan, het duo Andersson en Kitto maakte tijdens de release van het vorige album al bekend reeds bezig te zijn met het nieuwe album. Twaalf nieuwe nummers zijn het resultaat. Officieel zijn ook drummer Frank Bessard (Joe Satriani) en toetsenist Danny Oakhill nu lid van de band. De band heeft twee gastmuzikanten weten te strikken, gitarist Jerry Donahue (Proclaimers, Fairport Convention, Hellacasters) speelt mee op Portrait Of Love. Drummer Dave Getz (Big Brother Holding Company) speelt mee op Head In The Clouds. De nummers hebben ondanks hun akoestische inslag wel meer een rock karakter gekregen. Het psychedelische van het vorige album is wat meer op de achtergrond gedrongen.
Openingsnummer Give You My Love kon zo maar eens een rustige bewerking van een Led Zeppelin nummer zijn. En de intro van Get Lost Get Found lijkt met een beetje fantasie op de intro van Smoke On The Water van Deep Purple. Het zijn vergelijkingen die eigenlijk nergens op slaan, de band doet lekker zijn eigen ding, en doet dat goed. Maar de invloeden zijn er wel degelijk, maar dat maakt het ook weer zo aantrekkelijk. De nummers klinken vertrouwd maar zijn toch nieuw. Wasteland is een lekker ritmisch nummer in een minder akoestische setting. Elk nummer staat op zich maar past ook perfect in het geheel. Kort samengevat is dit album gewoon vijftig minuten lekker genieten. Pure muziek gemaakt door ras muzikanten. Voor een live optreden zal de liefhebber naar Engeland moeten, daar wordt de hele maand mei getoerd. Of er meer data komen is nu nog niet bekend.
1 3 9w Lindsey Buckingham & Christine McVie > In My World ♥♥
2 1 7w Joe Bonamassa > Song Of Yesterday – acoustic live ♥
3 2 8w Perfect Blue Sky > Give You My Love ♥♥♥
4 6 10wPaola Turci > Fatti Bella Per Te
5 5 4w Little Steven > Soulfire
6 4 9w Venice > Doesn't Get Any Better Than This
7 8 10w Vasco Rossi > Come Nelle Favole
8 9 4w Anouk > Waste Your Water
9 10 6w The Mavericks > Rolling Along
10 19 8w Roger Waters > Smell The Roses
11 18 4w
The Delta Saints > California
12 26 2w Ayron Jones > Love Is The Answer
13 13 8w Prince > Deliverance
14 15 7w Trombone Shorty > Here Come The Girls
15 16 7w Dave Hunt > Moonshine Chevrolet
16 11 8w Epitaph > Outside The Law – acoustic live
17 42 2w Flogging Molly > Life Is Good
18 20 7w Nad Sylvan > The Quartermaster
19 39 3w Ásgeir > Afterglow
20 14 9w Mike & The Mechanics > Don't Know What Came Over Me
Reviews for 'Emerald' 2015
"We are blown away by the attention we have received with this album -the fact that is has managed to reach across the borders picking up listeners and reviewers in all camps stretching from Pop to Metal is just mindblowing. Thanks to all our listeners, webzines, magazines and media for your amazing work and support!!"
Hooked On Music (Germany)

"Timeless good Retro Rock clearly wanting more."
Original Version: http://www.hooked-on-music.de/CD-Reviews3/Perfect_Blue_Sky/Emerald.html?band_id=8477
**
Kuhan Musablogi (Finland)
"They are the finest tracks in their analysis of the 'Phoenix Starlight' and 'Bend Me Your Sky'."
Original Version: http://kuhanmusablogi.tumblr.com/post/115424940513/perfect-blue-sky-emerald-2015
**
Mescaline Injection 7/10 (Germany)
"Flowers, nostalgia and timelessness"
Original Version http://www.mescaline-injection.de/2015-04-17/perfect-blue-sky-emerald/
**
Metal DE 7/10 (Germany)

"Emerald" is an album for romantics, nature lovers and dreamers. Imagine a hot summer day, here lying in the grass and looking at the sky, a few puffy clouds pass by, but you just see the deep blue sky. The band name PERFECT BLUE SKY is easily explained."
Original Version: http://www.metal.de/rock/review/perfect-blue-sky/60860-emerald/
**
Rock Portal (Netherlands)
"A unique, cross-border cooperation with psychedelic rock from the sixties and seventies combined with folk."
Original Version: http://www.rockportaal.nl/perfect-blue-sky-emerald/
**
Dagheisha (Italy)
"Phoenix Starlight' and 'Kingdom' introduce the listener in a corridor of mirrors, frames and elaborate pageantry without hesitation."
Original Version: http://www.dagheisha.com/prod/main/cd?id=8912#.VTVzXpNOXb4
**
Schwarzesbayern  4/5 (Germany)

"It is rare that you would think that after you insert a new CD you will have first musical memories. With the Swedish-Australian band Perfect Blue Sky and her debut Emerald me is exactly what happens."
Original Version: http://schwarzesbayern.de/wp/?p=12649
**
Der SzeneChecker (Germany)

"Emerald a first-class debut, which should be every fan of 70s rock shelf."
Original Version: https://szenechecker.wordpress.com/2015/03/30/cd-rezension-perfekt-blue-sky-emerald/
**
Metal Temple 9/10 (Greece)

"Between the uplifting lyrics and the powerful messages as well as the great beat and sound that really speak to the human spirit, mind, and soul Perfect Blue Sky fit their name well"
Original Version:  http://www.metal-temple.com/site/catalogues/entry/reviews/cd_3/p_2/perfect-blue-sky.htm?utm_content=buffer5886a&utm_medium=social&utm_source=facebook.com&utm_campaign=buffer
**
Musik Reviews 11/15 (Germany)
"Perfect blue sky awaken the ancient times of 60s and 70s, which anyway had the best view of many real music freaks again to the full bloom."
Original Version:  http://www.musikreviews.de/reviews/2015/Perfect-Blue-Sky/Emerald/
**
Crossfire Metal  7/10 (Germany)

"The opening track 'Phoenix Starlight' is acoustically great and suggests that this meeting between Sweden and Australia probably is onto something."
Original Version:  http://www.crossfire-metal.de/9864-0-PERFECT-BLUE-SKY-EMERALD.html
**
The White Rooms (Netherlands)

"An album which is characterized by the striking combination of Psychedelic Rock from the 60s and 70s and contemporary folk. What emerges is a wonderful summer feeling with a dreamy mind."
Original Version:  http://www.whiteroomreviews.nl/cdreview/emerald
**
Hard Rock Info (Sweden)

"This was a fun adventure, and I like what I heard, so check it out if you are interested. Their music is somewhere around the late 60s/early 70s anyway, and they play whatever they want from that time, but mainly it is laidback rock."
Original Version:  http://hardrockinfo.com/reviews/2015_2.html
**
Deep Underground (Germany)
"Get your batik clothes out of the closet, you put flowers in their hair, stoked the fire and spread Peace and Love in the country, because that then you are ready for the debut album" Emerald "by Perfect Blue Sky, the hippie movement musically seemingly revive on a new one. "
Original Version:   http://www.deepground.de/music-review/perfect-blue-sky-emerald/
**
UNT  4/5 (Sweden)

"Classic Rock West Coast. One of the best Swedish produced discs Ulf Gustavsson heard in a long time."
Original Version:  http://www.unt.se/kultur-noje/musik/klassisk-vastkustrock-3642244.aspx
https://translate.google.se/
**
SIMBA BLOG (Sweden)
"Perfect Blue Sky Emerald [Sound Pollution] Perfect Blue Sky is a Stockholm based band consisting of members from Australia, USA and Sweden. The front, fronted by singer Jane Kitto and the Swedish guitarist Pna Andersson, makes music with ingredients from both 60's and 70's rock, folk and psychedelia. It's melodic, colourful and explosive, so the best reference would probably be Led Zeppelin III."

Original Version: http://us8.campaign-archive2.com/?u=14efafd0d8fa8f5110a65c7f6&id=94b9ee7805&e=475eb3f003
**
1 3 9w Lindsey Buckingham & Christine McVie > In My World ♥♥
2 1 7w Joe Bonamassa > Song Of Yesterday – acoustic live ♥
3 2 8w Perfect Blue Sky > Give You My Love ♥♥♥
4 6 10wPaola Turci > Fatti Bella Per Te
5 5 4w Little Steven > Soulfire
6 4 9w Venice > Doesn't Get Any Better Than This
7 8 10w Vasco Rossi > Come Nelle Favole
8 9 4w Anouk > Waste Your Water
9 10 6w The Mavericks > Rolling Along
10 19 8w Roger Waters > Smell The Roses
11 18 4w
The Delta Saints > California
12 26 2w Ayron Jones > Love Is The Answer
13 13 8w Prince > Deliverance
14 15 7w Trombone Shorty > Here Come The Girls
15 16 7w Dave Hunt > Moonshine Chevrolet
16 11 8w Epitaph > Outside The Law – acoustic live
17 42 2w Flogging Molly > Life Is Good
18 20 7w Nad Sylvan > The Quartermaster
19 39 3w Ásgeir > Afterglow
20 14 9w Mike & The Mechanics > Don't Know What Came Over Me